New Baby
---
I went to the Hamburg show, 6 hour drive round-trip. Wanted to load up on cypress mulch, but the seller I usually get it from didn't have any available today. I did, however, run across a 2017 jungle jag sibling for $40, liked her colors/pattern, and figured I couldn't lose on the deal so I brought her home. Also picked up a female speckled king a little smaller than the male I got last year, another year or two and they should be mature for breeding.
Set the new arrivals up in sterilite tubs, and seeing how the little carpet seemed quite calm and settled in rather quickly I offered her a hopper mouse. Definitely a good sign when a new arrival eats right away, lol.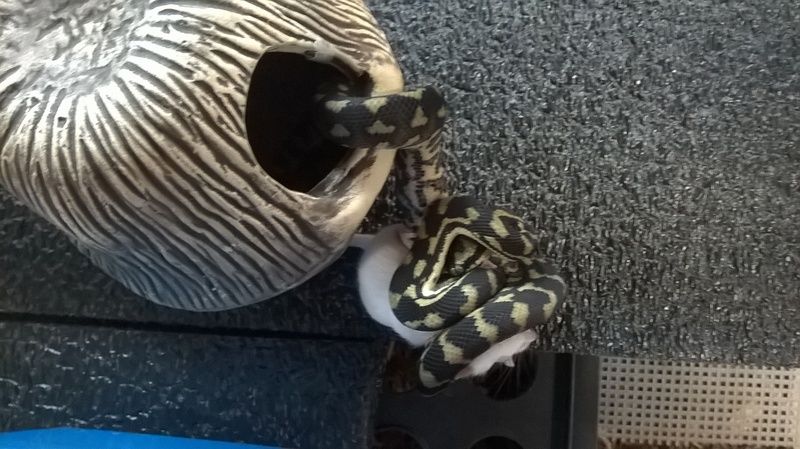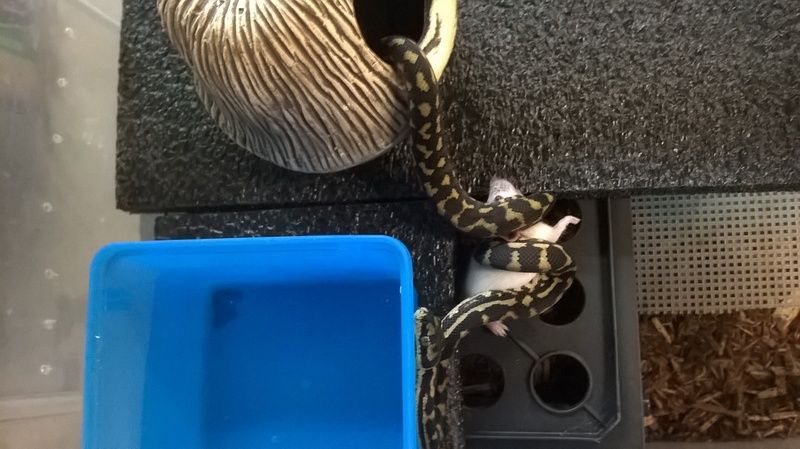 The seller said she was taking f/t hopper mice, and seeing her in action with a live one I don't doubt that's what she's been eating, but since I have a constant supply of rodents of all sizes on hand and sell off extras as they grow out I don't normally have frozen young ones.
__________________
9.8 Dominican red mountain boas, 0.0.1 Jungle cross carpet python, 0.0.1 IJ carpet python, 0.1 jungle carpet python, 1.1 BCI, 0.1 Dumeril's boa, 0.1 thayeri kings, 1.1 climacophora, 1.1 Candoia, 1.1 prasina, 1.1 speckled kings, 1.0 bloodred, 0.2 Okeetee corn, 1.0 Woma python 1.1 black rat, 1.1 savu python 0.1 Boiga nigriceps, 0.1 Olive house snake.